About Us
Pronounced - ULL(pull) ID(kid) - The Ulaid were a people of Early Ireland who gave their name to the province of Ulster.
"Ulaid features three supreme instrumentalists, gifted composers and talented interpreters of traditional and original music in one explosive package" - John O'Regan - Irish Music Magazine
"When three of Ireland's finest talents join forces on a new recording it's time to sit up, take note and fine tune the ears. This is where the tradition is at!!" - Lynette Fay - BBC Radio Ulster / Fleadh TV
John McSherry and Dónal O'Connor are the creative force behind the highly innovative traditional band At First Light. They have toured the world extensively and produced some of the most influential albums in Irish music today. Seán Óg Graham is regarded as one of Ireland's finest accompanists and he tours and records with the successful and dynamic group Beoga. All three are currently living in County Antrim in the North East of Ireland, and having spent many late nights in each other's company on the Belfast session scene, it was inevitable that they would come together to record at some stage. Featuring new compositions which sit comfortably alongside traditional pieces from 19th Century collections, plus fresh and progressive arrangements, coupled with occasions of free form solos, Ulaid will take you on an emotive and uplifting musical journey. From Ireland to the neighbouring Celtic regions, these three fearless musical adventurers will chart a path from the ancient music of the Gael to the contemporary shape of traditional Irish music today.
John McSherry has been a major figure in Irish music for almost twenty years, and is hailed as one of the finest exponents in the art of Uilleann Piping. Described as 'a true master' by the Irish Music Magazine. He is a founding member of Lúnasa, Tamalin and Donal Lunny's ground-breaking super group Coolfin. John has subsequently produced an array of critically acclaimed and innovative albums, both solo and collaborative, and continues to push the boundaries of Irish music with his current bands At First Light and The Olllam. He is a composer, producer, arranger and an established studio session musician of international renown, recording and performing with a myriad of artists including Clannad, Sinéad O'Connor, Rod Stewart, Nanci Griffiths, Gary Kemp and The Corrs.
Son of the celebrated fiddler Gerry O'Connor and revered singer Eithne Ní Uallacháin of Lá Lugh, multi-instrumentalist Dónal O'Connor has established himself as one of Ireland's leading producers. He has performed and recorded with the likes of Duke Special, Moya Brennan, Davy Spillane, Four men and a Dog, Steve Cooney, Mary Dillon, The Horslips, Darlingside, Cathal McConnell, Bob Brozman, Muireann Nic Amhlaoibh, John Spillane, Lumiere and Barry Kerr to name but a few. Having inherited a musical legacy of at least five generations of fiddle playing he has toured the world from a young age as both a lead and backing instrumentalist with a number of bands including Lá Lugh, more recently At First Light, Ulaid and the Gaelic-song super group A Stór Mo Chroí. He has composed music for theatre, television and film and has presented music shows for BBC ALBA, BBC NI, TG4, BBC Radio Ulster and Raidio Na Gaeltachta.
Seán Óg Graham is a guitar and accordion player who has performed and recorded with many of Irish traditional music's top artists over the last 10 years. He is a founding member of the highly acclaimed band Beoga, with whom he has recorded 5 albums and toured worldwide. He is also a talented arranger and composer, with more than 50 of his works featuring in the Beoga repertoire. Seán Óg is a first class Honours graduate of the Irish World Academy of Music and is also a member of the Scottish super group Fiddler's Bid. His versatile and tenacious style of accompaniment is in much demand and he has performed and recorded with Grammy nominated fiddler Liz Carroll, Karan Casey, Buille, Flook, Lunasa, Máirtin O'Connor Band, and The Cora Smyth Band.
Ulaid
The Ulaid were a people of Early Ireland who gave their name to the province of Ulster.
At their height, Ulaid territory extended south as far as the River Boyne and as far west as County Leitrim. By the 5th Century, when documentary history in Ireland begins, the Ulaid still held significant territory, primarily in Counties Antrim, Down, and Louth, although the boundaries of their territories were fluid. Their primary ruling dynasty was the Dál Fiatach, based in Downpatrick, County Down.
The Ulster Cycle (Irish An Rúraíocht), formerly known as the Red Branch Cycle, one of the four great cycles of Irish mythology, is a body of medieval Irish heroic legends and sagas of the traditional heroes of the Ulaid, taking place around or before the 1st century AD.
The Ulster Cycle stories are set in and around the reign of King Conchobar Mac Nessa, who rules the Ulaid from Emain Macha. The most prominent hero of the cycle is Conchobar's nephew, Cú Chulainn. The Ulaid are most often in conflict with the Connachta, led by their queen, Medb, her husband Ailill, and their ally Fergus Mac Róich, a former king of the Ulaid in exile. The longest and most important story of the cycle is the Táin Bó Cúailnge (Cattle Raid of Cooley), in which Medb raises an enormous army to invade the Cooley peninsula and steal the Ulaid's prize bull, Donn Cúailnge. Her army is opposed by the seventeen-year-old hero Cú Chulainn, who single-handedly fends-off the army of Connachta while the Ulaid warriors are asleep under a spell.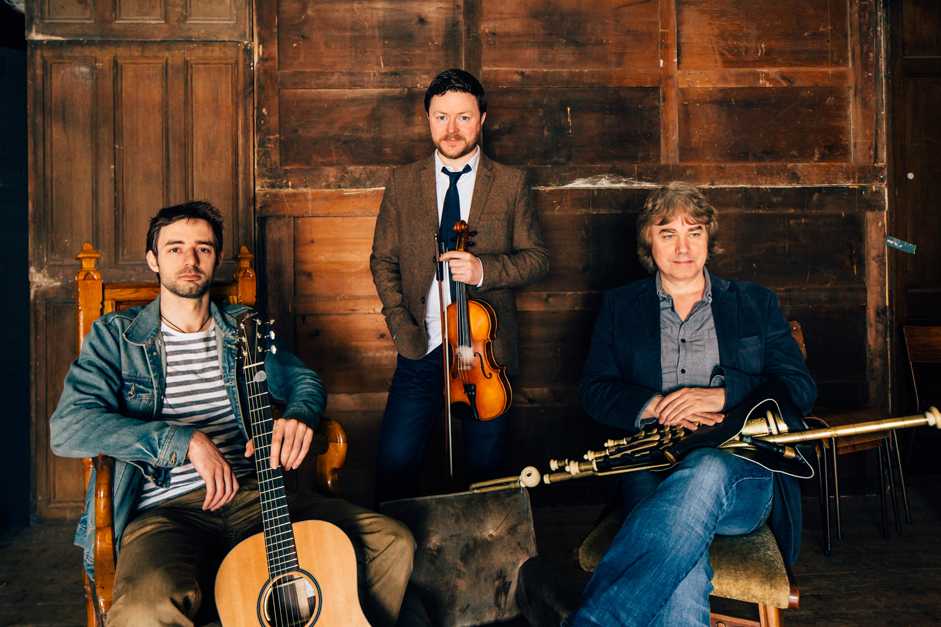 Ulaid – What the Press say……..
4**** review in Songlines.
'Something special is delivered in quietly virtuosic playing throughout'
Sunday Herald in Scotland
'This is state-of-the-art Irish traditional music played with heart, skill, imagination and sensitivity'
'McSherry's piping can't help but induce goose bumps'
'O'Connor's fiddling has character to spare'
4 **** review in Irish Times.
'An effortless fusion both musically and stylistically'
'a raft of beautiful original compositions'
'Multiple lifetimes of music lurk beneath the surface of this exceptional collection'
Folkwords.
'The sparkle and crispness of their approach gives every tune a fresh and exciting vivacity'
Living Tradition
'Tight, crisp, and imaginatively orchestrated with discerning dynamic variety'
'this is warmly expressive dance music rich in melody that repeatedly captivates with its entrancing effect'
'evoking the hypnotic qualities of great Breton dance groups such as Skeduz and Skolvan'
The Irish News
'Ulaid are surrounded by an invisible musical aura they sustain and are sustained by. The music the life-long friends make can effortlessly move from the most 'ethnic' in the canon to self-composed tunes that can be beautiful or rousing or both.'
Bright Young Folk
'Three renowned musicians have created something vivid and compelling'
'Ulaid's first album is a triumph'
'Absolutely captivating'
Folk Radio
'Listeners' emotions are engaged in a way that's rare amongst 'tune-albums', and on so many of the tracks here the mix of emotions is both complex and unexpected'
'there's a freshness, an open-air quality about the scheme of things'
'a more fluid, on occasion even free-form, freewheeling expression of these age-old traditional modes'
Irish Music Magazine
'The fiddling and piping are superb…moments of modern genius'
Folkworld
'O'Connor, McSherry and Graham are pointing in the other direction, into the future, and paving a way for the next generation of Irish musicians'